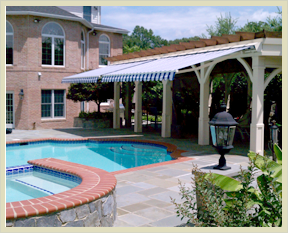 Retractable Awning
Expand your outdoor living space
A SUNAIR® Lateral Arm Awning expertly installed by Clark Associates offers the ideal solution for creating a comfortable outdoor environment the whole family can enjoy. Imagine staying cool on your deck, and protecting your family from the sun's harmful rays. Finally you can enjoy cookouts and entertaining the way it is meant to be with a SUNAIR® Retractable Awning.
Retractable Awning Features
Three models to choose from:
We offer three models of Sunair® retractable awnings to choose from: The Sunair®, Suntube® and the Sunstar®. 

The Sunair® awning system is our most popular retractable awning model. It is custom manufactured for your home using only the finest materials, with extremely attractive styling and many available options.

The Suntube® awning system is the ultimate state of the art retractable patio awning system. The Suntube® enjoys the same quality components as on our popular Sunair® model and features a tubular hood system that entirely protects the fabric when the awning is retracted.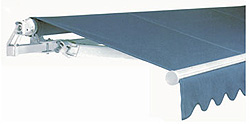 The Sunstar® model is a retractable awning system built with quality components, yet with economy in mind.
Highest Quality Lateral Arm:

All arm parts under stress are made of forged aluminum, including the the shoulder, elbow and arm components. All arms 8'7" and above use three heavy duty steel springs. Forged aluminum arm components are stronger than traditional die castings or extrusions resulting in a stronger awning that will hold up to the elements. Three heavy duty steel springs provide better arm tension and longer arm life.
Superior Elbows:

Sunair® uses twin high quality stainless aircraft cable. The elbow hinge is triple angled with an elliptical cable radius. Twin cables are far superior to a single cable, as cable wear is reduced, allowing better arm and fabric tension. The elliptical cable radius increases tension as the awning extends, and relaxes the cable as the awning is fully retracted. The angles help keep the fabric from dragging on the arms.
Heavy Duty Gears:

Sunair® uses a heavy-duty German 4:1 ratio bevel gear with a stop. A 13:1 gear is used on larger widths. The 4:1 gear is the most efficient gear ever made. This gear minimizes the time and effort needed in operating a manual awning. The stop eliminates fabric damage due to over-rolling.
Projections and widths: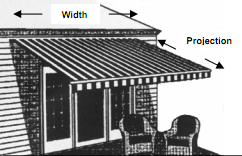 Standard projections available range from 4'2" to 14'0" depending on your choice of Sunair® model of Retractable Awning. Standard widths range to 35' with up to 40' possible on our Sunair® model.
Choice of designer fabrics: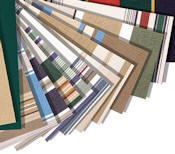 With hundreds of 100% acrylic premium grade solid and striped fabric colors to choose from, you surely will find a fabric to suit your need and taste. Acrylic fabric is more attractive and breathes better than vinyl. Vinyl traps heat and will crack over time. Acrylic fiber is also resistant to fading and mildew and has a water repellant Teflon coating. All fabrics are sewn with Tenara® thread, which is nearly invisible on most fabric colors. This thread is manufactured from GORE-Tex, and is clear and nearly invisible. Tenara® thread is made of teflon and will not deteriorate from exposure to the elements. We use only the top fabric manufacturers in the world, Para®, Sattler® & Sunbrella®.
Choice of frame colors:

Choose from nine electro-statically powder coated colors including White, Ivory, Mocha, Brown, Grey, Taupe, Forest Green, Black and Brown.
Ease of use options:
Motorizing your awning makes it easy to operate. The SOMFY RTS motor features an integrated radio receiver that allows you to operate the awning by remote. With a simple flick of a switch either on the wall or with a remote, the awning will extend or retract automatically. Also SOMFY offers two Sun and Wind systems. These sensors either retract or extend your awning when sunny, or help protect it from damaging wind.
Excellent Product Warranties:
The Sunair® and Suntube® awning models have a Limited Frame Warranty for a period of 15 years from the date of original purchase. The Sunstar® awning model has a Limited Frame Warranty for a period of 8 years. The fabric, motors, electronics and frame paint/finish are warranted for five years from original purchase by the manufacturer of these products.
How to buy
Simply contact Awnings by Clark Associates to schedule a free design consultation and estimate at your home or business. Contact us directly by phone or via email. Our Design Consultants are available, weekdays, evenings and Saturdays.