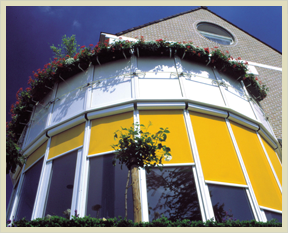 Motorized Solar Screens
Exterior and Interior Retractable Solar Screen Systems
A solar screen from Sunair® is the ideal solution for keeping sunlight at bay, while allowing you at the same time enjoy its advantages. You can eliminate glare, and control the amount of light that enters the window or door while still keeping a view of the outside. Simply push a button and the optional motor lowers or retracting the shade. Our solar screens also protect your furniture, curtains, and floor coverings from UV damage.
Motorized Solar Screen Features
Energy efficiency :
A solar screen from Sunair® can significantly reduce indoor temperature while lowering cooling costs by blocking the sun before it enters your home. Our fabrics effectively block up to 90% of solar heat rays when installed on the exterior of the window. Depending on the type of fabric used, you may realize a potential reduction in air-conditioning costs by as much 25% - 40%.
Exterior Retractable Solar Screens:
We have five models to choose from, including our most popular models the SC3500 and SC4000 Mastershade® Screen Systems. The Mastershade® Screen System is the ideal rolling solar screen and bug screen system for verandas, garage doors and lanais. Finally, you can enjoy outdoor space without worrying about the sun's glare and in the evening without worrying about pesky bugs. Simply roll down the screen and the zipper system will do the rest. This specially engineered zipper system keeps the fabric within the track, keeping unwanted bugs from entering the space. Both Solar screen fabric and Tuff Screen Bug fabrics are available. The Mastershade® Screen System can also be used with vinyl fabric and clear windows for keeping moderate weather at bay.
Interior Retractable Solar Screens:
Sunair® offers three models of vertical rolling interior screen systems: The ISC 6000 Light Interior Screen, ISC 6500 Duo Shade Interior Screen and the ISC 7000 Heavy Interior Screen. The interior screen systems are operated by a manual chain drive. When the shade is retracted the fabric is stored on the roller tube, which can be covered with optional fascias. A horizontal weighted hem bar keeps the fabric taut. Motorized control is an option with either a battery operated radio controlled motor, or hard wire wall switch. The Duo Shade allows installation of a sun control fabric and "Room darkening" shade on a single mounting bracket providing both light filtering and room darkening. Mermet, Frocke and Obion interior screen fabrics are available.
Choice of designer fabrics: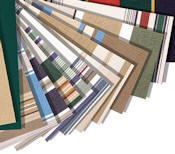 Sunair® offers the best mesh and acrylic fabric for your screen. More often a mesh fabric is needed because the customer desires solar protection, and still maintaining a view out of the window when the shade is lowered. Sunair® offers mesh fabrics from both Mermet and Ferrari. Both Mermet and Ferrari are mesh fabrics that offer both exceptional transparency and sun blocking capabilities.
Exterior Solar Screen Frame Colors:

The Sunair® model is available in nine standard powder-coat frame colors, the most in the industry. Over 200 custom "Ral" frame colors are available by special order.
Excellent Product Warranties:
The Mastershade® Exterior and Interior Solar Screen models have a five year limited frame warranty from the date of original purchase. The fabric, motors, electronics and frame paint/finish are warranted for five years from original purchase by the manufacturer of these products.
How to buy
Simply contact Awnings by Clark Associates to schedule a free design consultation and estimate at your home or business. Contact us directly by phone or via email. Our Design Consultants are available, weekdays, evenings and Saturdays.